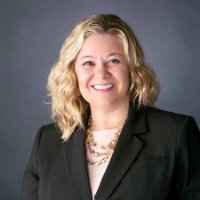 This interview, originally published in Spring/Summer 2017 Kentucky SHRM Magazine, was carried out by Cathy Fyock, SHRM-SCP, SPHR, CSP, and is published with permission.
How did you begin your career in HR?
I graduated from the University of Kentucky with a degree in advertising and public relations and began my career as a marketing director overseeing 35 unique products and services. I was blessed with an incredible boss (rest in peace, Mark Brashers) who agreed to provide some outside coaching from The Oliver Group's Scott Kiefer, an expert coach and strategist. Scott and I discussed aligning my skills, abilities and passions with my career, and I couldn't help becoming enamored with the work he was doing. Learning there was a career focused on aligning a person's skills set, ability, and motivation to the needs of business to enable growth for both the employee and company was a game changer. I joined the Oliver Group a few months later, and have been in the field of strategic human resources and workforce alignment ever since.
What has being a member of SHRM/LSHRM/KYSHRM meant for your career?
I subscribe to the belief that a mentality of servitude is one of the strongest attributes a leader can possess. True understanding of servant leadership can only be built by giving to others, and volunteering with Louisville SHRM (LSHRM) and Kentucky SHRM (KYSHRM) has had an amazing impact on both my career and personal development. Serving as LSHRM President in 2016 provided me with leadership training you couldn't train for or purchase anywhere. As President of a volunteer board, I had to motivate the efforts of nearly 50 volunteers to ensure we fully supported our 500 HR Members. Leading a volunteer workforce means relying on your ability to inspire and support your team in ways the almighty dollar never could. Our board showed up time and time again, asking for nothing in return, and last year we ended up growing our membership and volunteer engagement by over 100%. Thinking back on all this team accomplished still blows my mind. It's incredible what a strong group of doers can accomplish when they share a common goal and mission, and it's inspiring to know just how good people can really be.
Lastly, relationships are vital to a career, and our development is only as good as the meaningful relationships we make. Without serving on these boards, I would have missed these opportunities to grow professionally, and connect with Kentucky's strongest HR leaders.
Tell us about your volunteer leadership roles with SHRM.
I have been volunteering with SHRM for nearly 7 years, during which time I had the honor of serving as LSHRM's Workforce Readiness Director, President-Elect, 2016 President, and now Immediate Past President, as well as the current 2017 KYSHRM Eastern Kentucky District Director.
Tell us more about the exciting project on Bridging the Skills Gap: how it started, how it came together, your vision, next steps.
During my tenure with Sullivan University, I had the opportunity to work with amazing graduates, and sit in the space where education, employer, and employee meet. As LSHRM Workforce Readiness Director and President-Elect, I often heard of significant talent gaps from our members, and the pains businesses were having in trying to attract and retain a workforce prepared to meet business needs. At the same time, I had many conversations with public officials and workforce program and policy providers, each of whom consistently mentioned their need to have the voices of business in the conversation as they were pushing for a stronger Kentucky workforce. These experiences helped me understand that, even though HR professionals serve as talent experts inside their organizations, they were rarely involved in these important conversations.
Creating Bridging the Talent Gap was our team's way of rallying businesses, and pushing their needs to the forefront of workforce programming, planning and policy in Greater Louisville. As suspected, Louisville's HR leaders stepped up in a big way in 2016, and our profession is now a driving force in workforce initiatives within Louisville. In 2017, this effort will grow stronger through KYSHRM's statewide expansion, which will be an incredible experience for our state chapters and members, while impacting needed change and spotlighting the HR profession.
Who have been the mentors that have helped/inspired you? What did they do?
Fortunately, throughout out my career I have been surrounded by incredible leaders. The list is long, and even though I have a large and diverse group of people for whom I admire, I continue to seek out new mentors. Lyle Hanna is someone who amazes and inspires me, having had the privilege of working with him on several projects and seeing him consistently show up with an endless supply of drive and passion. Lyle volunteers his time all around Kentucky and beyond, and is relentless in his pursuit of improving the lives of others. I called him a few weeks ago regarding an initiative we are working on together, after talking for a bit, I remembered he was on vacation…in Maui! I felt terrible, but not Lyle. How many of us can honestly say we would take a call on vacation, about a volunteer project, in Maui? It's inspiring to see someone with so much professional success continue to give back to their community and raise the bar on service to others. Receiving an award named after him is an incredible honor, and most certainly propels me to serve even more. It is fitting our state's highest recognition of HR Service should be named the "Lyle Hanna Spirit Award."
What advice do you have for new HR professionals?
Relentlessly go all in on your career and development. True growth comes when we are least comfortable, so don't be afraid to say "yes" to the opportunities that arise outside of your comfort zone. Make it a practice to prove success in your role, find ways to learn and take on more for your employer, and get involved in your community through volunteering. Giving time to different organizations provides a platform to understand your true passions. Too often, we forget to unleash our passion, and become miserable at work because we never tap into our true excitement. Volunteering and service to others helps us uncover those positive emotions. It's important to listen to, and trust, your instincts. We are overwhelmed with information every second of every day, and it can be almost impossible to hear that voice inside us. Take time to pause, reflect and listen to your gut when making decisions. Instinct is the torch that lights the way as we evolve in our careers.
The power of relationships is infinite. It is imperative to surround yourself with a good "squad." I could never express the gratitude I have for my incredible circle of mentors, peers, and friends. All of them are smart, caring, and good people. It is so important to seek out like minded mentors and peers, who both compliment and challenge you. Be sure to have their back, and they will always have yours. Never burn a bridge. Trust me. The world is too small, and Kentucky is even smaller. All your relationships will come back to you in one form or another. Work hard to be the best you can be, harness your best self, and be good to others.
What's next for Beth?
2017 is off and running, and will be a fun year. In January, I joined the Kentucky Chamber of Commerce as the executive director of their new Workforce Center. The Workforce Center gives businesses across the Commonwealth a concerted voice, so that we can align business needs to education, workforce programs, and policy. We have a lot of work to do, but by bringing businesses to the table, and forming strong partnerships, we will create a stronger Kentucky for everyone. This is a dream job for me, and am still pinching myself to be sure I am not asleep.
I am also excited to continue serving with several education and workforce groups in our state, and will remain in leadership roles within LSHRM and KYSHRM. This year, I am participating in the Leadership Louisville Bingham Fellowship, where we are tackling Louisville's ability to "Win the Workforce of Tomorrow." Professionally, it's going to be a year of solving problems and serving our great state, while personally I will be hanging out with my favorite person on the planet, my husband, Ryan. This winter we are tackling some do it your self-home projects, and as soon as Kentucky thaws into spring, we will be camping and on the water in our kayaks.