What if there was a way to fill jobs across multiple business segments, saving companies time and money? Here at HRG we have the solution for you. In our Recruitment Process Outsourcing (RPO) we will manage the ongoing requisition load across multiple companies in the same industry with the target of hiring a certain number of positions annually. HRG will take care of candidate identification, attraction, and presentation through integrated recruiting strategies encompassing all sources such as external, internal, referrals, and direct apply. Along with this, we will help you create job descriptions and job advertisements.  
There will be 5 to 7 companies participating in each group all in the same industry. You will be able to request up to 10 different positions for us to recruit. Each group will be provided with a dedicated talent acquisition consultant and shared director.
Recruitment Process 
Organizational Vision and Developing Job Descriptions: First we will determine the experience requirements and education level needed, in addition to any credentials that may be necessary for the position. After that we will perform a Compensation Analysis to determine the appropriate salary and benefits for the position. 
Develop Selection and Criteria Scheme: We will work with the company to determine what is most important to them in terms of experience, education, and candidate fit to make sure we higher the right candidate for each company.

 

Advertising and Networking to Source Strong Candidates: We will post the positions to various sites, publications, and client's organizations websites. Then we will determine the compensation expectations for the positions. Once candidates come in we will discuss their background, education, attributes, and more and determine their interest in the position.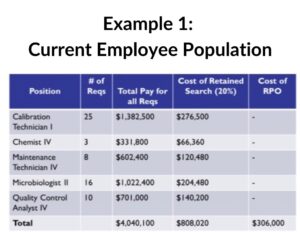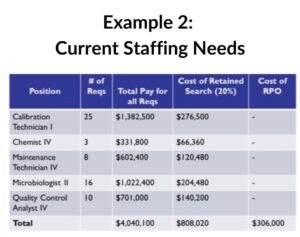 Looking at the table, there are 5 positions that 4 companies in the Biotechnology industry are looking to fill. If they were to go through the normal recruitment process it would cost them $4,040,100 altogether to hire for these positions. But if these companies were to go through our RPO it would only cost them $306,000 and when split between the 4 companies it would only cost $102,000 annually.