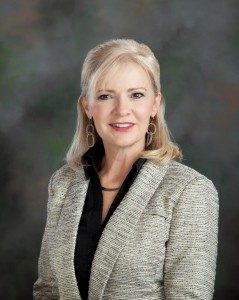 For the first in the Lyle Hanna Volunteer Spirit Award Recipient series, we are pleased to present a profile of the 2015 recipient, Sherry Whitman-Powers! Whitman-Powers is currently the Vice President of HR & Customer Services at Bluegrass Cellular, headquartered in Elizabethtown, KY. In addition, she serves as Elizabethtown's SHRM Chapter Past President as well as the KY SHRM Workforce Readiness Director.
Tell us a little about your background.
Although I held several leadership positions early in my career, I had a "late in life" epiphany that it was time to return to school. Thankfully, my husband wholeheartedly supported my decision, so I returned to college and achieved a Bachelor's and Master's degree in Organizational Training & Development (OTD).  My PHR certification followed, and I recently completed the SHRM-CP certification, as well, and appreciate the focus they have placed on "real world" applications.
My interest in our local SHRM chapter escalated to participation in other chapters.  Since my company had offices across Kentucky, I was compelled to contribute beyond my "geographical comfort zone."  I joined SKY SHRM where I served as Legislative Chair and maintained their website; SEK-SHRM where I held the position of Legislative Chair; and became involved with ESHRM, initially as Treasurer and eventually transitioning to Legislative Chair, Membership, President-Elect, and President.
How did you get into the field of HR?
All of my experiences with HR have been overwhelmingly positive, and I wanted to be a part of that. When I initially enrolled in the University of Louisville's OTD program, I intended to pursue a career teaching adult vocational school because I wanted to help adults who wanted something better for themselves and their families.  While struggling to pay for college, I began working in corporate sales for this great, fairly new company (Bluegrass Cellular), and I ended up falling in love with my job, my co-workers, and technology!  With my Master's degree in sight, I sent a letter to the company's President detailing the benefits of hiring their first HR staff member -me!  When the position became available, I gained an interview and was hired, and now the President has been my mentor for the past 20 years.
How would you describe a Volunteer Spirit?
Servant leadership.  The feeling you have that, if given an opportunity, everyone would give a little more of themselves for the good of others and the communities in which they belong.  Putting the needs of others first is an incredibly enriching experience that aids in both professional and personal growth.
What did winning the Lyle Hanna Volunteer Spirit Award mean to you?
Being nominated was an honor in itself.  Being chosen to receive this award has opened doors to other opportunities within the HR profession and my community. Being perceived as results-oriented and a positive influence was motivating, and I am reminded that no man is an island; "let us spur one another to good deeds and love" (Hebrews 10:24).
Honestly, I feel it is more of a team award, a group of passionate people moving the community in a positive direction like a wave.  There are so many examples, but just to name one, SHRM Chapter members partnered with community job fairs, not to recruit, but to help the unemployed with resume creation and interviewing skills. Local high schools were also contacted and these same skills were shared with students.
Can you tell us about a way you have seen HR make a positive impact?
As a third year winner of the "Best Places to Work", Bluegrass Cellular offers opportunities for employees to make a difference throughout the year. These include blood drives, food collections, a "Don't Miss the Bus" school supply collection campaign, United Way fundraising week, Salvation Army bell-ringer events, and March of Dimes week.  Teamwork, collaboration, and comradery have sky-rocketed as a result of these efforts, and employees enthusiastically embrace each event and raise the bar for participation each year.
Our HR department has a brand outside of the company's logo and brand. It's a brand that is evident at each networking event, job fair, and all SHRM/community programs. Each company initiative is wrapped in pride, integrity, and accountability, and each member of management understands that our brand recognition exceeds our consumer product – wireless services. THEY are the brand! The community is constantly requesting the presence of our employees at their events to help make a difference, and we receive hundreds of resumes each week because people want to be a part of this "Best Place to Work."
What is your favorite thing about HR?
Big picture view! I always think about the impact of every action on the end game:  profitability, which leads to sustainability.  Increasing revenue and reducing expenses are the result of careful strategic planning.  Also, managing your "brand" so that it attracts and retains a talented workforce is key!
Do you have any advice/words of wisdom for newbies in the field?
First, know that all relationships matter and are crucial to your success in establishing your vision for the company.  Second, as you acclimate to your organization and implement improvements, remember to measure your success to understand how an initiative positively impacted your organization's business objectives!
What do you think the future of HR looks like/what will be important to look at in the field moving forward?
My crystal ball shows HR will be redefined and focused primarily on talent identification and performance management.  Today's transactional requirements will be solved by self-service technology so, in addition to HR, advanced education in marketing and economics will be required to meet the company's competitive demands.
The field needs to work on developing leaders who can translate a company's vision into actionable objectives to both inspire and motivate.  This can be accomplished by partnering with high schools and colleges to ensure the needed training is available to sustain our company's workforce needs.  Success in these areas leads to productive employees and outstanding results, which contributes to being recognized as a "Best Place to Work".
What do you see as the biggest challenges facing HR professionals today? 
Transitioning HR's reputation from a "policy enforcing" department to executing initiatives and sharing feedback on tangible results; learning how to share accomplishments and results in an effective manner is crucial.  In addition, it's important to identify cost-effective technology that will integrate with all systems: payroll, benefits, recruitment, compliance reporting, and sales operations.
Sherry can be reached at powers@bluegrasscellular.com.