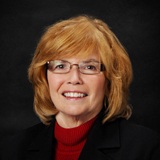 Hanna Resource Group is pleased to profile 2009's Lyle Hanna Volunteer Spirit Award recipient, Lynn Ingmire! Lynn is the President/Owner of Essential HR Partners LLC and is serving as Chair for Kentucky SHRM State Council.
Lynn's Background
Lynn Ingmire, SHRM-SCP and SPHR, has over 30 years of human resource management experience and has been responsible throughout her career for a full range of HR functions.  She has worked in small, large, union, and non-union organizations, and in multiple industries including manufacturing, distribution/transportation, food processing, education, and not-for-profit associations. In 2014, after "retiring" from the role of Vice President of HR and Benefits with the Kentucky Association of Electric Cooperatives, she founded her own consulting business, Essential HR Partners, which provides training and consulting in human resources and leadership.
Lynn received her BS degree in Sociology from the University of Louisville and holds two professional certifications: SHRM-SCP and SPHR.
In addition to her corporate responsibilities, Lynn has been a member of the Louisville chapter of SHRM for over 30 years and began volunteering shortly after joining the chapter.  She served as President in 2006 and still volunteers with the Chapter.
Her involvement with the KY SHRM state council began in 2006 when she was chapter President and still continues today, as she is serving as Chair for 2016 and 2017.
Lynn volunteers with Boys and Girls Haven in Louisville, Kentucky, by serving on their HR Advisory Committee. She also devotes a great deal of her time to the Lupus Foundation of America Mid- South working on the Walk to End Lupus Now – Louisville, as well as various other fund-raising events for the organization.
How did you get into the field of HR?
In the summer between my junior and senior year at U of L, I worked part-time at The Anaconda Aluminum Company in their Employee Relations Department on a special project – getting the organization in compliance with ERISA. It was a new law which was not yet defined completely, so I worked with the legal department of Atlantic Richfield, who had purchased Anaconda, to update the reporting requirements and get them into compliance.  I enjoyed the challenge of researching benefits and what impacted the employees. Later in 1980, while working for Metridata Education Systems (Watterson College), the position of Personnel Director opened up and I applied, using my past experiences with the Employee Relations Department as justification for giving me the position.
What does having a Volunteer Spirit mean to you? 
Giving unselfishly to an organization or a cause for which you have a passion.
What did winning the Lyle Hanna Volunteer Spirit Award mean to you?  
To have been nominated by members of the chapter to which I had belonged for 17 years meant so much to me, and then to actually be chosen by the State Committee was overwhelming.  When the announcement was made at KYSHRM Leadership, I stood there looking at all the very deserving candidates who were also nominated and felt such a sense of pride.  I looked up to and admired those that had received the award before me, so to be able to join them was such an honor.
Can you tell us about some ways you have seen HR make a positive impact?
Through the cooperation of senior management and HR, employees can develop a trust in the organization so that, even when the management team is faced with a difficult decision, the employees feel as if management will treat them fairly and with respect.  Life deals tough hands sometimes, but it's how we play those cards that can have a positive impact on all the employees.
What is your favorite thing about human resources? 
The challenge of balancing the needs of the organization with the needs of the most important asset – the employees.  Each day brings different challenges and opportunities so there is rarely a dull moment;  you never know what's going to come walking through the door, so you have to remain alert and ready for just about anything!
Do you have any advice/words of wisdom for newbies in the field?
Embrace the challenges brought to you every day and don't give up your soul — remain steadfast in your beliefs and your principals.  Your job will be very demanding and, at times, consume you, so find meaningful ways outside of work to fulfill and invigorate you to help you remain fresh for the continued challenges of your profession.  For me, those meaningful outlets are my family and my volunteer roles.
What do you think the future of HR looks like?
A complex maze of regulations tangled with the individual wants of employees.
What is the biggest change you see coming down the pipeline?
Tough compliance issues that will continue to create challenges in getting management and Boards of Directors on board.
What do you forecast will be important to look at in this field moving forward?
Enhancing the education of all levels of human resource management in the competencies that make us respected by other professionals in our organizations.
HRG is so glad that Lynn took the time to share her experiences and advice with us, and we look forward to sharing more insights in future profiles!