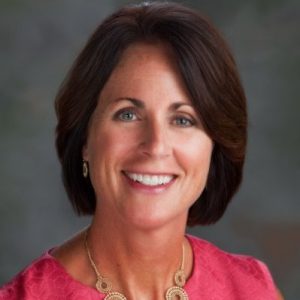 Hanna Resource Group is pleased to profile 2010's Lyle Hanna Volunteer Spirit Award recipient, Susan Simmons! Susan is currently the Executive Vice President, Director of Human Resources for Central Bank and Trust.
Tell us a little about your background and how you got into HR.
I started working for First Federal Savings Bank right out of college as a Teller and, over the next eight years, I was approached by management to fill various roles as positions came open. I always accepted, knowing that if they had the confidence in me to take that next step, I could do it. From Teller I went to New Accounts/IRA Administrator, then Assistant to our Systems Administrator, then Systems Administrator (which later changed to Network Administrator).  As the Network Administrator, and since we did not have a formal training or Human Resources Department, I did all the training of new hires to prepare them for their work on the Teller line.  In my ninth year (now 21 years ago), the CEO noticed my love for training others and asked if I'd like to start our HR Department.  I had no real HR education or experience at the time but, again, I felt that if he had the confidence in me to get the department up and running, I could do it.  I went to several workshops on HR topics, attended the Human Resource Management School of the Graduate School of Banking at the University of Wisconsin-Madison, and studied diligently for the SPHR exam.  I took and passed the SPHR exam in 2002 and received the SHRM-SCP designation in 2014.  I truly found my niche in HR and am very thankful to my former CEO for laying the groundwork for me to take that direction in my career.
What does having a Volunteer Spirit mean to you?
To me, it's volunteering from the heart and not just the mind.  In HR, we all know that we should give back to the community, set the right example for others, and work to achieve growth for ourselves and our employer.   If we do that from our heart, though, and not just because it's what we know we should do, it's inspirational and often motivates others to do the same —  they can see that you love what you do and why you're doing it.
What did winning the Lyle Hanna Volunteer Spirit Award mean to you?
To be nominated for the award alone meant so much to me — knowing that my fellow HR professionals thought enough of me to nominate me was a highlight in my career.  I've served alongside some pretty incredible people in our HR Community and I think the world of them, so the fact that they would single me out was very humbling.  After that, actually winning the award was just icing on top of the cake!
Can you tell us about some ways you have seen HR make a positive impact?
Knowing that a company's biggest asset is its people and that HR has the biggest hand in who those people are, we have a tremendous impact on the success of who we serve.  We are not only involved in the hiring of those people, but also their development and the tone that is set in the workplace; we have to take everything we do very seriously knowing the ripple effect it will have company-wide.
Can you share an example of a way in which strong HR practices have provided a strategic advantage?
Applying for the Best Places to Work program provides a huge strategic advantage.  Even if a company doesn't win, they are provided with so much detailed feedback that they will know what they need to do to improve their workplace, and improved workplace morale goes a long way in customer satisfaction and increasing profits.  If the company wins, the employees take even greater pride in the company, which can lead to increased retention and greater returns, as well; recruiting even becomes easier because applicants want to work for great companies.
What is your favorite thing about HR?
I LOVE to see employees grow and flourish in their careers!  If I feel I had anything to do with that, it gives me the greatest sense of satisfaction.
Do you have any advice/words of wisdom for newbies in the field?
Prove yourself through your actions. Look for opportunities to take a leadership role within special projects to demonstrate your abilities.  Find good mentors in the HR field to help you along the way.  Contacts in the HR community are invaluable.  Join the local SHRM chapter and volunteer.  Absorb all that you can and take advantage of every opportunity that presents itself.
What do you think the future of HR looks like? 
In the past, HR was often seen as a necessary evil.  It has now become, and is still growing into, a true partner and leader in the organization.  We see more and more HR Directors not only serving as a part of their company's Management Team, but looked upon as key influencers when setting direction and preparing for a company's future.
What is the biggest change you see coming down the pipeline?
Unfortunately, this appears to be more government regulation and intervention.
HRG is so grateful to Susan Simmons for taking the time to share her evolution into HR, as well as valuable insights into how the function can positively impact organizations!  We look forward to sharing more advice and observations in future profiles!