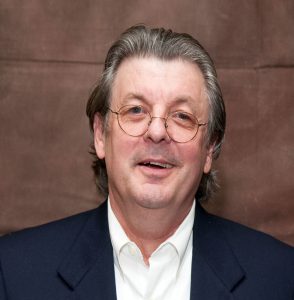 Hanna Resource Group is pleased to profile 2011's Lyle Hanna Volunteer Spirit Award recipient, Howard Blackburn! Howard is currently the Senior Vice President, Director of Human Resources for Community Trust Bank, Inc.
Tell us a little about your background.
I'm from North Carolina, and I received a Bachelor of Science Degree in Communications Art (with a major in Media Advertising) from Appalachian State University in Boone, North Carolina, followed by a Master of Arts Degree in Adult and Higher Education from Morehead State University.
In my current position, I am responsible for the corporate-wide administration of employee benefits, payroll, training, and workforce development. While I have been with Community Trust Bank, Inc. since 1993, I have been in the banking industry since 1977 and have held various management positions in marketing and training with companies in both North Carolina and Tennessee.
I serve on the KYSHRM State Council and received the Lyle Hanna Volunteer Spirit Award in 2011. I am currently the vice-chair of the Eastern Kentucky Workforce Innovation Board, and am also a member of the National College Advisory Board. Until its dissolution, I was also a Steering Committee member for the Institute for Workplace Innovation (iwin) powered by the University of Kentucky. In addition, I also hold the SHRM–SCP and SPHR certifications.
How did you get into the field of HR?
Back when I was the Director of Training, my group's reporting was changed from the Marketing Director to the Director of Human Resources. In addition to my training responsibilities, the HR Director began involving me in HR matters, and I discovered that I really enjoyed the field. I eventually became the Assistant HR Director and, upon my predecessor's retirement, I was promoted to the Director role.
What does having a Volunteer Spirit mean to you?
It means truly liking people and wanting to make life, both personal and professional, better for them. To me, volunteering is one of the most selfless, altruistic things a person can do, and it has been my experience that people will do almost anything you ask them to as a volunteer — most people are just waiting to be asked.
What did winning the Lyle Hanna Volunteer Spirit Award mean to you?
First of all, I was speechless for a moment as it sank in that I had actually received this award; it was one of the most humbling moments I have ever experienced. I would consider being recognized by my peers for this honor to be the apex of my career — it means that much to me.
Can you tell us about some ways you have seen HR make a positive impact?
In my organization, HR has moved from being the "people police" to being advocates for the employees.  My organization is very paternal and my HR Team has worked hard to help create and sustain a work culture that allows employees to have work/life balance. Before its demise, we incorporated so much from the Institute of Workplace Innovation (iwin) and saw positive results from the new practices implemented.  We were early adopters of Wellness Programs and these initiatives have had tremendous results and a very positive impact on our Medical Plan – so much so, in fact, that we have not had a premium increase in the last five years! We also work with our managers to help create and sustain a work environment that meshes with our strategic plan and encourages personal growth through education and training.
Can you share an example of a way in which strong HR practices have provided a strategic advantage?
We haven't had the threat of an employee lawsuit or EEOC complaint in over eight years.  We are, and have been, strong advocates for affirmative action, diversity and inclusion, and a discrimination-free work environment.  Once people understand we are serious about these types of issues, you see these problems disappear.  My company is very serious about a work environment where employees can come to work, do their jobs well, go home and spend time with family and friends, and look forward to going to work the next day without facing harassment, discrimination, or a hostile work environment. Our employees know they can report any complaint to HR and it will be investigated and resolved without fear of retaliation. To me, this is huge.
What is your favorite thing about HR?
Never knowing what is going to happen next.  I truly like people and enjoy working to make their company an even better place to work.  Understanding and working though all of the regulatory guidelines is like doing research in graduate school, and you have to apply what you have learned or there will be consequences. I never have a bad day — I get up in the morning looking forward to work and seeing what the new day will bring! I can have my day planned out and then the phone rings or an e-mail arrives and my day has been rearranged.
Do you have any advice/words of wisdom for newbies in the field?
Don't take yourself too seriously, have a sense of humor, and learn to be flexible! Also, know your company and industry, and never underestimate people.
What do you think the future of HR looks like?
HR has really come into its own. Executive Management will rely more on HR than in the past. There is so much pending legislation at the national and state level that will have an impact on HR practices in organizations, so the CEO will be looking to the CHRO to advise courses of action to keep the company in compliance. The nature of the workforce has, and will continue to, evolve as the traditionals and boomers age out of the workforce and are replaced by the millennials and Generation Z. HR will be at the forefront of helping companies to sustain and expand with these new generations and their different needs and attitudes towards work.
What do you see as the biggest challenges or changes facing HR professionals today? 
More government mandates and regulations impacting the workforce.
What will be important to look at in the field moving forward?
Being able to filter out fads and identify true game changers in the workforce.
HRG is so grateful to Howard Blackburn for taking the time to share information about how HR has made a difference in his organization and how he sees it changing moving forward! We look forward to sharing more insights in future profiles!