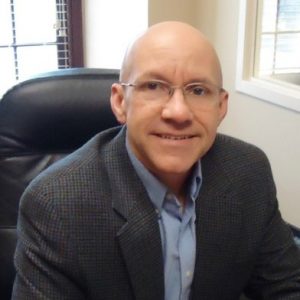 Hanna Resource Group is pleased to profile 2013's Lyle Hanna Volunteer Spirit Award recipient, Damian Wirth! Damian is currently the Senior Vice President/ Chief Human Resource Officer of Franklin Bank and Trust Company in Franklin, Kentucky.  
Tell us a little about your background.
My experience spans decades and industries and includes manufacturing, automotive, and finance, often in multinational environments. I earned my Bachelor's Degree in Mechanical Engineering from the University of Louisville and my MBA from Western Kentucky University.
My background seems to continually lead me to Human Resource Technology; in particular, implementing technology, systems, and processes into organizations.  It is technology in HR, in fact, that led me to be a contributing author for the book, "What's Next in Human Resources." I also hold Human Resource certifications; specifically, I hold an SPHR and a SHRM-SCP.
How did you get into the field of HR?
I was working as a process engineer in the automotive industry, enjoying my experience in a Six Sigma Department, when the company decided to dissolve the department and begin moving the engineers into various positions.  At the same time, the company was handed a major infraction during a QS9000 audit for its lack of a training system.  Experience in creating databases was valuable in helping to maintain records and launch an adequate training system, so I quickly found my place within the HR Department.
What does having a Volunteer Spirit mean to you?
Going beyond what's required and acting without the expectation of a return.
What did winning the Lyle Hanna Volunteer Spirit Award mean to you?
It was a humbling honor, as there are countless others who do so much for our profession.  I have great admiration for those who received the award before me, and for several others that have yet to be recognized.
Can you tell us about some ways you have seen HR make a positive impact?
I have witnessed numerous examples; so, in other words, I'm old enough to have too many stories, but I am also very fortunate to have worked at many great places in my career.  I think we sometimes overlook, or underestimate, the impact we have on people's lives and how our actions resonate beyond work and affect families; the profession of HR is more like a "calling" than a career.  I've seen a company's culture, benefits, training, and sincere recognition reconfirm value to a human being; sometimes it's even something as simple as showing support and listening without judgement that makes the difference.  On occasion, we find ourselves standing against common misconceptions and perceived short-term resolutions, but it's our responsibility to remain strategic and forward thinking, even when we may not see results for several months or even years.
What is your favorite thing about human resources?
Every HR position varies.  I've spoken to some who tell me every day is like a party; others tell me their days are more like the morning after where they are cleaning up with a throbbing headache.  I have my share of character-building days, of course, but when your actions and choices make an obvious positive impact, it makes everything worth it.
Do you have any advice/words of wisdom for newbies in the field?
Never stop searching for learning opportunities.  Read, network, find a mentor, and attend KYSHRM's State Conference every year.
What do you think the future of HR looks like? 
I am always excited about our opportunity to embrace technology, and the possibilities and options within this field are enormously vast.  As HR, we can incorporate advancements to help ourselves, managers, and employees work more effectively.  We can lead innovation by shifting routine processes to automation, freeing us to invest time in planning, analyzing, and developing strategies.
What is the biggest change you see coming down the pipeline? 
The biggest challenge may come from the continuous changes in regulations.  The uncertainty has caused a strain in creating multiple scenarios and possible outcomes. Some of the potential regulation changes are so radical that they create turmoil and anxiety within our organizations, and these reactions can quickly become a distraction for HR and keeps us from focusing on strategic plans and improvements.
HRG appreciates Damian Wirth taking the time to talk about his background and technology in HR, and we look forward to sharing more insights in future profiles!