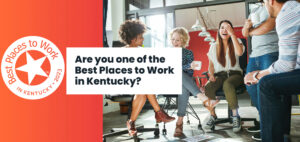 The Kentucky Chamber of Commerce, the KYSHRM, and ClearPath Mutual Insurance Company have announced the 100 companies (in alphabetical order) that made the 𝟏𝟗𝐭𝐡 𝐀𝐧𝐧𝐮𝐚𝐥 𝐁𝐞𝐬𝐭 𝐏𝐥𝐚𝐜𝐞𝐬 𝐭𝐨 𝗪𝐨𝐫𝐤 𝐢𝐧 𝐊𝐞𝐧𝐭𝐮𝐜𝐤𝐲 list.
The winner rankings will be announced at the awards dinner on Thursday, June 8, 2023, at the Central Bank Center.
The selection process, managed by Workforce Research Group, is based on an assessment of the company's employee policies, procedures, and the results of an internal employee survey.
For more details about the Best Places to Work in Kentucky program, please visit (Home (bestplacestoworkkentucky.com) AND check out the video below to learn more!
List of 2023 winners (in alphabetical order): 2023 Best Places to Work in Kentucky Announced – The Bottom Line (kychamberbottomline.com)