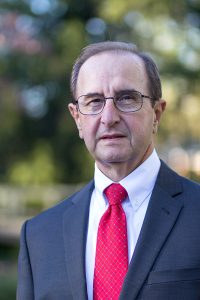 Hanna Resource Group is pleased to profile 2014's Lyle Hanna Volunteer Spirit Award recipient, Steve Rinehart! Steve is currently the Administrative Manager at Denyo Manufacturing Corporation.
Tell us a little about your background and how you got into HR.
 I got into HR (or Personnel as it was termed in 1979) quite by accident. After completing an MDiv in Church Administration from Lexington Theological Seminary and holding multiple positions with the United Methodist Church across Kentucky, including Youth and Christian Education Director, Assistant Minister, and Pastor, I was serving as Director of Program Ministries in Southern Hills UMC, Lexington, when family and other factors caused me to seek a career change. I have a BA in Secondary Education (Physical Sciences major) from the University of Kentucky so I was working with a professional recruitment/placement company that had been focusing on marketing my undergraduate degree in chemistry and physics – with limited success. One day the recruiter called and asked if I had ever considered the "personnel field". Honestly, I had not, but her question prompted me to realize that most of what I had done for the past eight years involved recruiting people, working with people of varied ages and backgrounds on many different projects, and assisting people with a range of personal issues – that sounded a lot like what I understood the "personnel field" to be.
Frankly, the recruiter was trying to fill up the schedule of a Personnel Manager who was going to be in town interviewing candidates for an entry-level personnel position. I agreed to an interview. A week later I was invited to visit the RR Donnelley facility in Glasgow, Kentucky for additional interviews, and shortly after that, I was offered the job.
My 25-year career with RR Donnelley & Sons took me from HR Coordinator to HR Supervisor and Manager. From there I went to Danville-Boyle County to serve as the Community Education Director, but I missed the day-to-day HR tasks and the manufacturing environment.  For the past 10 years I have been with Denyo Manufacturing Corporation as the Administrative Manager.
What does having a Volunteer Spirit mean to you?
 Primarily, having a volunteer spirit means "paying it forward" by sharing my time and talents to assist or support others in the same way that I have been helped in the past. As the first member of my immediate family to attend college, let alone graduate and complete an advanced degree, I would not have been able to do so without the encouragement and assistance of teachers, counselors, community members, and friends. Having been the beneficiary of that sort of enabling support, I feel an obligation to pay it forward by doing the same for others – especially in the area of education, which is where I have invested much of my volunteer efforts.
What did winning the Lyle Hanna Volunteer Spirit Award mean to you?
 Honestly, the award itself was less meaningful than the fact that my peers in the HR community in Danville-Boyle County nominated me for it. It is very gratifying when those who understand the demands and challenges of a profession because they also deal with the same demands and challenges every day, choose to single out one of their own for recognition.
What are your favorite things about human resources?
 My favorite things about human resources are also the greatest challenges or frustrations of the field: (1) the variety of subject matter areas, requirements, and tasks that are involved, and (2) the people with whom I interact and serve.
The variety of the human resources field is what makes it interesting and exciting. No two days are ever the same, and no two situations are ever the same. I once saw a performer juggling balls while riding a unicycle while balancing on top of a large ball — THAT is what it often feels like as an HR professional!
It is challenging and risky – but what an incredible rush and sense of accomplishment when you are able to make it all happen.
Someone once commented to me that "if it wasn't for the people, HR would be a great job." But if it wasn't for the people (the employees/associates), HR would not be needed. People create the situations and issues that HR professionals are called upon to listen, counsel, mediate, arbitrate, confront, comfort, and celebrate. The people and the relationships that are formed and the experiences shared with them are what give the job its real meaning – and greatest rewards.
Do you have any advice/words of wisdom for newbies in the field?
I am including two quotes that I have found to be particularly important to me, both personally and professionally:
The first from Franklin D. Roosevelt:
"Do something. If it works, do more of it. If it doesn't, do something else."
The second from William Arthur Ward:
            "Do more than belong: participate.

             Do more than care: help.

             Do more than believe: practice.

             Do more than be fair: be kind.

             Do more than forgive: forget.

             Do more than dream; work."
HRG is so grateful to Steve Rinehart for taking the time to open up about his favorite parts of HR, as well as share some wonderful inspirational quotes!  We look forward to sharing more advice and observations in future profiles!